The Last Man on Earth
---
---
---
My latest obsession whilst enduring the Covid-19 lockdown
---
At some date in early 2015 I watched a trailer for an upcoming TV series called The Last Man on Earth. I'm pretty certain this was it:
---
---
I enjoy the post-apocalypse genre where the normal rules of society are gone, because there is no more society and anything goes. I've watched every episode of The Walking Dead, even the really depressing prison based episodes, and enjoyed films such as The Road and I Am Legend.
A new comedy show set in a seemingly empty world would be right up my street.
I then half forgot about the show, probably because we didn't have the facility to watch it on any of the digital services we subscribed to at the time.
Zoom forward—no pun intended—to 2020 and the Covid-19 pandemic hits the world. If you're locked-down at home, the opportunity to binge-watch TV shows is too tempting, so I've been doing just that.
I started with Tiger King—and who didn't—before moving on to the back catalogues of the BBC, Netflix, Apple TV and NowTV etc. I eventually arrived at Amazon Prime since I've been ordering a lot of tat via the Bezos behemoth organisation. Signing up for Prime was a no-brainer due to the free next-day delivery included with an account. Of course that also meant I got Prime Video.
I watched a few now forgotten series before my search for post-apocalypse resulted in a suggestion of The Last Man on Earth (LMOE). Oh yeah, that show, I remember that.
Wikipedia describes the show like this:
Almost a year after a deadly virus sweeps the world, Phil Miller (Will Forte) is seemingly the only human survivor in late 2020. As he searches for others and paints signs in every state saying he is alive in his hometown of Tucson, Arizona, he finds no one. After years of being alone, he decides to run his truck into a rock to commit suicide.
The first two episodes run into each other: "Alive in Tucson" and "The Elephant in the Room". The show itself lasts for sixty-seven episodes stretched out over four seasons.
I LOVE IT. I rapidly watched all four seasons before going back to the beginning to remind myself about something. I got sucked in again and watched the whole thing through a second time. I'm not ruling out a third go either.
The show has relevance to the current situation in the real world. If things get any worse in 2020 fiction could become reality and I for one want to live in the crazy world of LMOE.
Kristen Schaal, known to me as Mel from Flight of the Conchords, turns up as The Last Woman on Earth and she's awesome.
Incidentally, Kristen (Mel) turns up in my favourite video from the Conchords. She arrives at 3.28 and if you know the show plot, it's really funny.
---
---
T-Shirt Frenzy
One aspect of LMOE is the t-shirts worn by Phil Miller, effectively the central character. He wears a different shirt for most episodes, particularly from season two onwards. A lot of them are from Threadless, where you can buy many of the designs. That may have been the intention and I've been marketed-to but who cares, I want LMOE t-shirts. Haha!
I think I'm going to start with this one:
---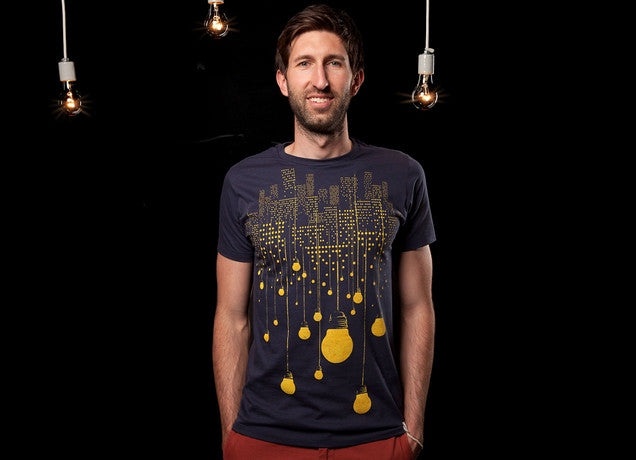 ---
I like the design, obviously, and there's a UK supplier who can source it from Threadless sans customs charge. Nice.
I'm sure I'll be writing about LMOE again, probably t-shirt shenanigans.
---
Comments